A bit later than usual due to the Easter weekend and the JK's.
Only a handful of WSX members went to this large international event – which was a shame as it was relatively 'local' (West Sussex) and the countryside in that area looked stunning. The outstanding result from the weekend of events was for Lyra Medlock who got a Silver Medal in the W10 Class. A superb result at her first really big event. Here's a photo of her (second on the left) on the podium: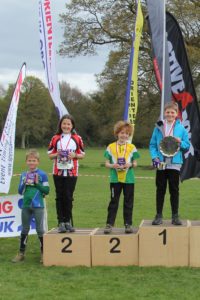 Other top 10 great results were: Eskarine Medlock 2nd on White, Day 3 (7th on Day 2) Peter Suba M40L 16th; Andrew Beldowski 3rd M85.
WELL DONE EVERYONE!
Don't forget out next club event is on Bank Holiday Monday, May 1st at Holton Lee. Jon Brooke is organising this but if you want to reserve a map, please let me know asap. It should be a great Club Night as Jon has got a new format to try out on us! The flier can be found on the Events page. This is the first of the 2017 Summer League – so hope to see many of you there!
The following event for our club is the Poole Town Race which has had to be moved to a new date – Sunday June 18th (from May 20th) Again, the flier is on the Events page. Please put the date in your diary now if you are available to help out.