As my co-Chairman, Jason, is swanning around in the USA for Christmas, it falls on me to update you on what's been happening in the last week, and a reminder of the great things to come. I'm afraid my 'chat' won't be as entertaining or visually enhanced as Jason's, but here goes.
Last Wednesday, BAOC hosted the Night League Winchester City Race, based at the rugby club. It was a clear but quite mild night (for December) and there was a good turnout again. Jason and I arrived there soon after the first competitors were setting off (about 4.45) and we were soon ready to go ourselves. You know what it's like when you pick up the map and you search desperately for the Start triangle? Well, not only did I struggle with that, but I could hardly see any of the 25 controls either! Unfortunately, the control circles and numbers had not been made sufficiently clear, and even in daylight it was difficult to see them. So my intention of spending some time working out a strategy of which controls to go for went out the window, as I couldn't see where they were! So I just set off to a control that I could see, and then continued on an ad hoc basis around the course, searching each time for the next visible control.  Not the best strategy, but that's all I could do. But once I got going it was a really enjoyable event, running by the illuminated Cathedral amongst all the Christmas Market visitors. Because Jason and I had to dash off and catch a train back, we missed  the other 3 WSX runners unfortunately.The full results are here.
The last Night League event of 2018 was the Brighton City Race, held on Saturday. This is always a great event, being so near Christmas, and part of the challenge is to dodge your way through the late night shoppers and revellers in The Lanes. The mass start of 180 competitors (outside The Odeon on the seafront where a long queue of Madness fans were waiting to go in) jostled expectantly, rolled up map in hand, waiting for the hooter to set us off. Everyone was facing westward, and as the hooter went, we all set off en masse in that direction. However, when I finally unrolled my map, I saw with horror that my course (Womens Ultra Vets) had the first control in the opposite direction! In fact, my course (course 6) was the ONLY course that went that way (9 competitors in total) and by the time I had turned around and set off in the right direction (with people shouting "Your going the wrong way!")I was nearly a minute behind my opponents – not a good thing on a 2.7k urban course. I did manage to make up the time at one point on Lynn Branford, but then lost it again by getting muddled in the Pavilion Gardens. So I came 4th out of 6. But it was great fun and at the prize-giving at the end, Ian Sayer  got a medal for coming 3rd on Mens Ultra Vets, behind Chris Branford of WIM. Other WSX results were:
Alan 14th/44 Mens Open (beating Dan Cope, his nemesis); Rob 9th/27 Mens Vets (running up); Ali 11th/20 and Sheila 19th/20 Womens Super Vets.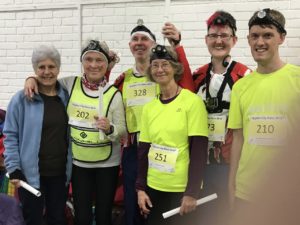 After the event, 12 of us from WSX, WIM and BOK went for a lovely Greek meal. 5 of our party had actually won a medal, so it was quite a celebratory evening.
So now it's time to think about what joyous events are coming up in the next few weeks. The first is the amazing Boxing Day Canter, organised by WIM in Moors Valley. Over 129 entered so far  – and I'd advise you to pre-enter as it saves hassle on the morning, which can a bit manic for the organisers. So please go to fabian4 and enter, if you haven't already.
On New Year's Day, Sarum have got an event at Foxbury. The event flier is here. This will be a great way to start 2019 off. It's a 1 hour Festive score "with some roving controls" – so sounds fun. Entry on the day only.
Then on January 7th, SOC are hosting the next Night League event at Lyndhurst. Please email [email protected] to reserve map. Full details are on their website.
This event is quickly followed by our very own Night League event at Canford Heath on January 10th. Please reserve a map using the link on our website.
All local upcoming events until the end of February can be found here.
So it just leaves me to wish you all a relaxing and peaceful Christmas and New Year, and hope to see you out in the forest somewhere soon!
Julie