Its my Birthday week this week and a brief post as we havent had the usual slew of events- just a couple of updates here.
Sunday just gone BOK held their Stockhill event on the Mendips, superb area as many of these are- sometimes a long journey to race but they really have some of the best areas we have in the U.K. Our 7 runners had a good time in the forest with Neo taking a 22nd from 77 on the green- Nice Running!, and Jolyon also top half running the Brown 27/56. Lyra had a good competition with WIMs Harry B.H coming 3/ 23 on Light Green. Well done to all who went along.
Organiser said "   316 runners was an amazing turnout and we hope everyone enjoyed their runs on the 'new' Peel map. The weather was certainly chilly but the rain stayed away and we were fortunate to be sheltered somewhat by the trees. As usual, the BOK squad system greatly simplified my life as Organiser, leaving me largely coordinating and relying on our well-oiled volunteer system to do the rest. There were at least 25 people working on the day on parking, 'Ask Me', registration, computer, download, first aid, start and string course, so thanks to you all. Thanks also to Pete Maliphant for organising the SW squad training and for getting the energetic youngsters to take in all the controls."
Great for S/W Squad runners to have some training too well done BOK.
Ian Sayers
new map of Christchurch
 for event 15 a mix of Urban and Park, again based from a pub should be a great night.
Pre Enter here
 Always love using a new mapped area we are going for more than the 58 record SOC made at Lyndhurst on event 11.
League tables are below with plenty events left to race in.
Map snip as a teaser here-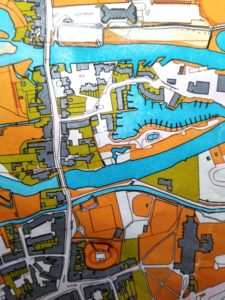 Open League Table (January 23rd)
Handicap League Table (January 23rd)
Tuesday Training is short hills tonight, the hills are always there but is youre fitness I wonder? perhaps some training might help you with that 😉 Jason