Loads of events to report on for you today–Saturday the biggest Summer Series event so far was held in Tinneys Firs by SARUM O. 69 and another 21 came along with 11 of the total 90 WSX members. Some fast times at the top everyone got a good forest Score race, how Sarah Rollins got 10 minutes on on the whole group Ive no idea might find out that tonight at Tuesday training from the 3rd placer Alan Blanchflower.
Saturday the Medlocks were in Oxwich Burrows in South Wales for the Swansea Bay Orienteers Gower weekend, super technical sand dunes couldnt faze Lyra there and she took the firsts on Green courses both then and the following day at Kenfig. Hard to say how rare it is seeing a W12 beat and entire mixed age group field! The family enjoyed the Welsh experience looks like our SOC friend Rob Finch pictured in the Summer Series pic above did too also winning the Blue course- top Wessex Competitors.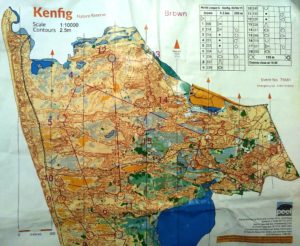 Over to Hungary for a Peter Suba report–
"This weekend I was in Hungary and attended the Middle Distance Championship weekend. In Hungary, the Middle Distance is organised in the format of the heats in the morning to qualify for the various finals, then the finals are in the afternoon. On Sunday there is a relay where I have entered with 2 of my Hungarian clubmates in the M145+ category. They were both using a terrain that is very diverse and complex, a combination of open and wooded terrain with some areas of vegetation maze, marked contours to more diffuse undulating areas, so big differences in visibility as well as the need to often change the technique and running speed. In other words, the perfect middle distance terrain and a lot of opportunity for mistakes of all kinds.
I have been allocated a very early starting time in the heats, meaning I could not expect any elephant tracks in the expectedly green areas, so I purposely took it very carefully, slow and steady all the way and tried to take fairly safe routes. I did make a directional error in the green on leg 3, and a few other smaller wobbles, but being very careful I still managed to keep the error account low. In fact, much to my surprise I finished 3rd in my heat, so comfortably qualified for the 24 person A finals. It also meant being seeded at the end of the finals, which was delayed – and it also meant spending a looong time in the quarantine that became more and more quiet – collecting lots of mosquito bites and realising that all the water was drunk before I got up to warm up and get ready for my start.
As anyone with half a brain I realised that my plan in the morning of taking it slowly and carefully worked, so I set off on my finals doing exactly the opposite – collecting about 5 and a half minutes of mistakes in the first 4 controls with a combination of rushed and stupid routes, parallel and directional errors. At No.5 having been caught by my 3 minute man, we ended up racing the rest of the course: I was leading him into controls and slowly pulling away before making another big mistake once we switched terrain types and were out in the open, confidently ran to a tree that was visible from a long way away and I was certain would be our control site – only to be proven wrong, getting confused and turning back seeing my 3 minute man punching the control a few hundred meters back. On to chasing him again, managed to catch and overtake him at the penultimate control. Not a very good run then, managed to achieve an 8th place with so many mistakes just proves how tricky the terrain and course was!
On Sunday we had the relays where I was 3rd leg runner in the M145+ category (a combined age of 145+) – our leg 1 runner was doing brilliantly and brought the relay back in 2nd place about 10 sec behind the leader, unfortunately our leg 2 runner managed to run off the map and so I have set off in 7th place way behind. This time the relay was in a less tricky area, nevertheless I still managed to make a few mistakes (I am happy to blame the map for the biggest one), not to mention that the mid-day heat has killed my running shape. In the end, I have brought the relay back in 5th place – with 4th place a realistic option if I wasn't making those mistakes."
Nice report Peter from what looks to be some awesome terrain- I must get to Hungary to race sometime.
Also on sunday I ran in the Poole 10K which is part of the Poole Annual Festival of running, a local race I've taken part in many times. Back in 2015 after 4 years attempts I got a sub -40 PB,  this year without a great deal of distance training I made 43.16 this year which was I was completely happy with.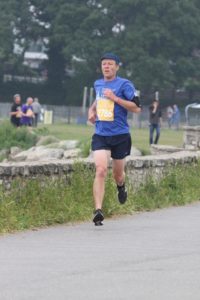 Finally this week yesterday we had the first ever Wareham race, an Urban starting in East Street where we were hosted by the Brooke family. Superb area with a good amount of off road based on the whole Wareham Walls circuit which is itself charming, the race was planned by Di Tilsley who gave a hard sequencing task-and kept us thinking all the way. WSX took the top 7 of 36 on the hour score and James Crickmore just got the win and showed us how its done.
Agnes raised over £200 for her upcoming Borneo trip that shes doing in a couple of years, so many thanks to all who contributed, it was a great social everyone enjoyed Jons Pizza.
Well June is upon us and this Saturday our next Urban is on around the final mapped sections of Canford Heath. Dale has worked hard over the last 3 years on mapping this whole area so even if you havent entered yet do go along and support. Theres short line courses for any new families and I hope that my school contacts and parents will go along for a taste of what a proper event is like. Im off to London to marshal the Walk50 event again so cant be there myself but look forward to seeing the results.
Tuesday training tonight is our Short Hill Reps session so perfect if youve never been along, we had 12 runners last week with an Orienteering friend Paulina Chaloupska who took a 12th on Saturday over from Czech Republic- good to meet her!