This was my first weekend without orienteering since September, so timely for me to provide the weekly update!
SOC King's Garn
First up: Saturday morning SOC event at King's Garn and Castle Malwood in the New Forest. 'Sunshine, mud, plenty of wet areas' were order of the day in a lovely area of the Forest, home to the famous Rufus stone, where William II was shot by a stray arrow in 1100. Ten WSX members turned up, with a great result for Roger coming 6th on the blue, with Graham and Tina also going the full distance. Tim had a great run on green coming 5th only 2 minutes behind the winner. Good to see Ian W, now of WSX having another good run (3rd) on light green, with Alan H (4th on orange) and George P (3rd on yellow).
SW squad and Soudley
Meanwhile up in the Forest of Dean the South West Junior Orienteering Squad convened for a Christmas weekend of training, Christmas fun and Secret Santas. We have 3 active junior members, Agnes, Arthur and Lyra. All 3 are doing really well and are putting in some notable results, and this has been rewarded by their inclusion in the squad. Inevitably they are all starting to beat us, and so they should, with all that energy (and coaching). Great to see WSX juniors doing so well, it will be even better to encourage more juniors to follow in their path, so do bring your youngsters along as it would be brilliant to organise a junior team for the Yvette Baker Shield competition. We can provide training!
Saturday morning for them, Rob and Nicola included the NGOC event at Soudley Ponds. A tricky area with steep valleys and endless platforms, which seem to have kept many confused and entertained. I find platforms an odd feature to map, and yet there are countless in the Forest of Dean. They seem more archaeologically significant than topographically significant. Apparently, they were constructed for charcoal burning to feed the production of iron ore, an historical industry in the FoD. It was easier to produce charcoal in situ than lug it out of the forest. Some poor person had to keep the burners alight day and night for up to a week, 24/7. Many of the platforms are barely discernible below the forest litter.  Check out results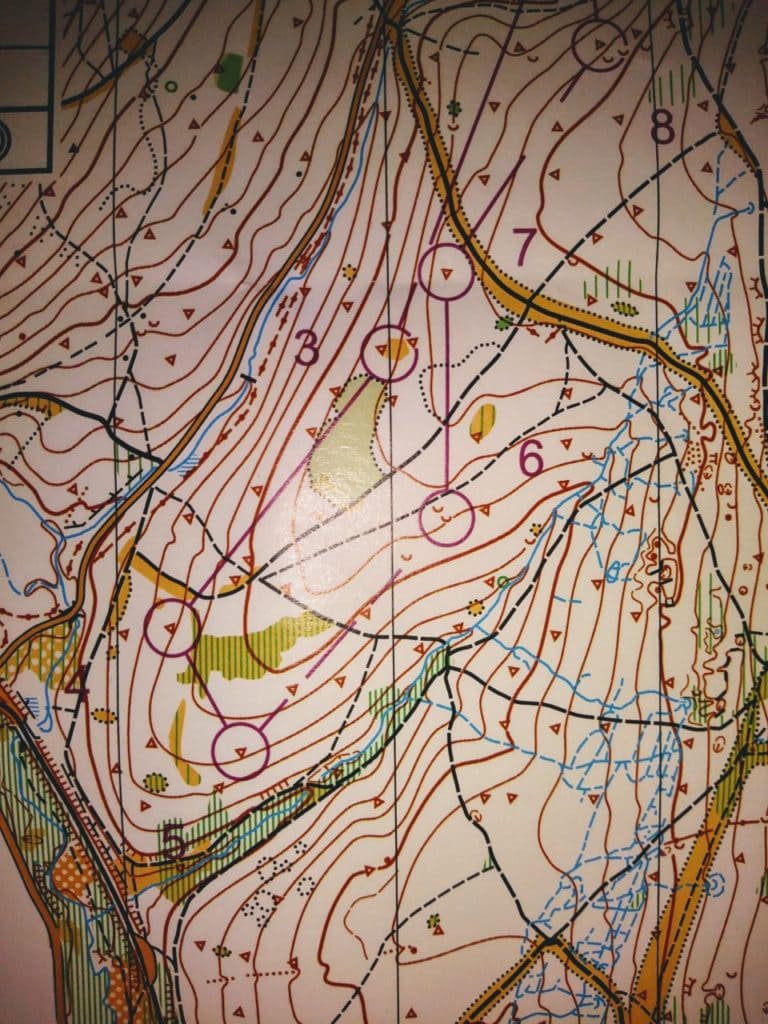 A proliferation of platforms
Night(mare)-O at King's Garn
Meanwhile back in the New Forest, dusk was falling and a different cohort on night-O mad WSX members were back in King's Garn. Rob (and Carolyn, practically WSX) hot footed it south to join Peter, Jon, Jason and Julie.  Top running by Peter who finished 2nd, behind an M21. Rob in 5th and Jon in 8th also made the top 10. Check out results
Jason reports: Superb dry night in the forest for an event with 31 dedicated navigators. Set off with the intention of collecting both 50 pointers and found myself a great sequence using the rides and tracks. No errors on the collection however headed back with 16 minutes remaining to collect last two. They didn't appear for me so came in with 310 not 350 but still very satisfied with my result – truly only for the headstrong 
Julie reports: Disaster in the Dark
Now I know why I haven't been forest night orienteering for several years – I'm rubbish at it! Last night was the SOC event at Kings Garn and Castle Malwood, based at the Sir Walter Tyrell pub. The evening was perfect for the event as it was quite mild and dry – apart from underfoot! The control description for the Start was 'end of linear marsh', so a bit of a clue as to what we were going to experience.
I was one of the earlier starts – I wanted to get it over and done with as soon as possible! I took a quick look at the map (probably too quick – I'm not good at planning a strategy) and set off south across the wet open area into the block of forest. The first control (171) looked fairly straightforward – just take a bearing through the woods to hit the end of a long finger of open cutting into the area. This plan didn't work out quite as intended as I veered off to the right and hit open at the edge of the wood, but not being sure exactly where. I scanned around with my headtorch and managed to notice the open heading off into the trees and ran up it to find the control. Relief!
Headed further south to the next one (164) across wet open and uphill. Found ponds that didn't appear to be on the map which threw me a bit but eventually found the main track which helped me find my way to the control. More relief!
Next control (161) not too bad either, so getting to be a bit more at ease. I was, by then, behind Carolyn Dent (BOK) who had started after me and was much more experienced night orienteer than myself. We both entered the woods at the same place, heading for a 50-pointer. We hit a stream – oops, too far. Whereas Carolyn kept her head and managed to relocate and find the control eventually (I found out later) I headed back in a vague direction just hoping I'd find it. Headless chicken mode really. I thought I'd found a small ride that was mapped which would have lead me to the control – but it clearly wasn't. In the dark, it's so difficult to determine what's a path/ride in the forest. As a result, I spent far too much time looking for the control 170 to no avail.
So rather demoralised I headed north across the stream to find 162 and amazingly found it without too much trouble. Looking at my watch, I saw I had about 20 minutes left, and decided to head for the other 50-pointer just to try and redeem myself. Big mistake. Not only was it a long trudge along the main track, I then had to cross a fence and two rides before looking for the depression. I somehow managed to cross the second ride without noticing it and hence ended up searching in the wrong area for the control. I eventually gave up and headed east to hit the main track and reluctantly head for home. Then I found I was at the ride junction which wasn't far from the control, so decided to go in and have another look. No luck yet again! By this time, I had very little time before the 60 minutes was up and I knew I was going to be overtime. The run back was along the very muddy track and seemed to go on for ever. By the time I reached the finish, I really thought I'd end up with a minus score as I was over 7 minutes late. As it was, I had got a grand total of 90 points, minus 80 penalty points – ending up with a grand total of 10!! Not my finest hour (well, 67+minutes, actually).
BUT… I really enjoyed it and it made me realise I need to do more forest night events to get my night map-reading skills improved. My casual "I'm sure I'll find the control if I get to the general area" approach, which can work in the daytime, just doesn't cut it at night. A humbling experience.
Well done Julie, you are braver than the rest of us couch potatoes who stay home, drink wine and watch Strictly!
Update on Wessex Night League from Gavin
In the Open League Nick Jarvis really went for it and got all the controls but with penalty points ended up 10th. He is still up 2 places and will be in the mix. No change at the top but both Alan F and Dan didn't improve their scores. Becca moves up the third overall. Jo Pickering is gaining and had the best female result of the night. Rob Finch, last night's winner moves up 5 to 6th and is another that will be in the mix.
 In the Handicap League: Very little movement with just those still to make 7 events making any inroads. Crystal Ball time after 8 races. In the Open I'm going for 1st Rob Finch, 2nd Alan Finlay and 3rd Nick Jarvis, with Dan Cope snapping at their heels. With the Ladies then Becca 1st, Jo 2nd and Tereza 3rd. Too soon to predict the Handicap though.
SW squad training at Blakeney
Back in the Forest of Dean, it was technical training, talks from GB talent squad members and Chilli or Curry. The next morning the squad were out at Blakeney Hill. Hopefully we will get some reports from our squad juniors next week (for Lyra's blog), but let's just say they were 'walking on contours', 'CCP' and 'Trains' – more explanation to follow hopefully.  Not aware of any other events on Sunday locally.
Night-O at Christchurch
Monday night was more night-O planned by Ian S and Sheila and organised by Julie. 13 WSX members attended with 4 in the top 10: James in 3rd, Alan B 4th, Peter 9th, John 10th. Ali was the highest ranked female WSX. Check out results
Next events
We are coming to the quiet and silly season for orienteering, where we all don our Santa hats, search for tinsel, roaming Santas and get chased by the Grinch on a mountain bike. However this Saturday SARUM have a local event at Dur Hill near Burley. On Sunday, WIGHTO have a local event at Borthwood Copse on the Isle of Wight which is a rare chance to orienteer on the island.
Don't forget to sign up to WIM's Boxing Day Canter at Moors Valley to get free parking.