Happy Holidays! My monthly post is around night league events this time, end of the Autumn and into the last quarter of the year outdoors.
Wednesday last week a few of us headed up to Winchester for the Night League Event 11. It was a filthy night and despite this 52 participants. 4 Years ago we were amazed to get 45 people come along so 52 on a horrible night shows how far we have come. With 30 controls some from the earlier MLS event everyone was in for a challenge and no-one got all 30. Alan Blanchflower put a good effort in and well done for a 3rd. I just ran a tactical race to collect max points, in 44 minutes. Just a change but this strategy has put me another place up in the Open league to 11th overall, I'm determined to bag another all controls pointer before the end of the season like I did at X church. Best parts of the area are the hilly parks and we were given another few new locations to find that were in the ridiculous wet parks. Good fun overall really with the shoppers making a few comments as we passed them in the town centre.
Also on wednesday you may know Ian Ultrasport from the thousands of events hes been trading at for the last decade- British Army Orienteering paid him  a special tribute as hes retiring from the service after all these years, I first happened to have a meal with him up at the J.KS in Northumberland back in 2009 and he never forgot my name since then. Great service given and if he should read this Wessex Send you all the best for retirement too. After our running a nice warming curry helped and things along, also pictured here a special Brew made by Mark Light of SOC. Coffee Porter! very seasonal and thankyou for this speciality beer- what an original way to honour the Wessex Night League 19-20, I will savour this over the holidays.
If you are keen on making life easy with APPS theres a new one that connects with your calendar to tell you all the events listed in BoF website. Its called Event-O and its free. Try it out today. The started is a club member and does lots of promotion of O sport so we fully support them with this app. Read all about it here.
Moving on to saturday Another soggy Night League event! 12 in the series- Julies report here:-
"This time at the Brighton City Race. 6 of us from Wessex went over there – earlier than usual as the race had been brought forward due to the Burning of the Clocks procession. And, in order to avoid all the crowds that were expected to attend, the race actually started near Hove Station. So we all had to troop to Brighton Station from the event centre in our high-viz tops and headtorches, getting very strange looks from all the 'normal' people, and hopped on a train for one stop to Hove. Of course, by then, the rain had started – sods law!
This Race has a mass start, so about 150 of use nervously waited for the klaxon to go and we were allowed to unroll our maps. People went off in opposite directions – and this time I got it right! By now it was raining quite steadily, but at least it wasn't cold. For the first few controls, one is not far away from one's competitors, and so it was that myself, Sheila and Lynn Branford  were only 9 seconds apart at control 7, with Lynn being in 1st place.But by control 10, things had changed and I was in 1st (33m 34secs) and Sheila in 2nd (33m 35secs). From 12 onwards, Sheila and myself were swapping the lead at alternate controls. But never many seconds apart. At 13, Sheila was really pulling away from me – she's a better runner than I am and my legs were beginning to fail – but unfortunately, at 14, the control kite and box had fallen to the pavement and although Sheila was in the right area well ahead of me, I managed by chance to see it before her  – so I was in the lead again by 7 seconds. From 14 -15 there was a 'Runner's Choice' – 2 possible control 15's to choose between. I chose one route, and Sheila the other – and she gained 22 seconds on me. I think this was more due to her running speed than it being a better route choice. The Planner seemed to think there was nothing in it.
Two more controls to go. Sheila was now 15 secs ahead of me but somehow I regained the lead by 16. Only 4 secs ahead and one control to go. By 17, this was down to 3 secs. Running as fast as I could downhill and then left, I pushed as hard as I could to the Finish, knowing Sheila was hot on my heels.
I managed to punch first and, I assumed, Sheila punched after me. But it wasn't until later, as we were changing and compared printouts, that we realised we were equal 1st with exactly the same time! Apparently, there were two Finish boxes and Sheila had gone for the other one.
I was really pleased with this outcome as I felt that it was only by luck that I had seen the control kite at 14 before Sheila, and hence got the lead.
Other wins on the night were Gavin Clegg who won the MSV and Ali Innes who was the 2019 winner of the SEOUL  Women's Open League.
So a great night, finished off with 7 of us having a lovely Greek meal".
While I remember happy birthday to our youngest member Richard Arman who has just joined the M90 age group, stunning achievement well done Richard.
Over to Jolyon now for next weeks blog to write up the Boxing Day Canter, Ill be there so hope to see you fit and ready to balance the calorific intake with a fun activity in the forest. Heres my last MTB lead also in Moors Valley, great coached series for the Bourne Academy – work get put on the shelf for a little while now and I'm pleased to say I have 3 things starting me off workwise in the new year, Permanent course for Gillingham Dorset, School map updates for Parkstone Grammar and St Peters too. Have a great break and see you in 2020.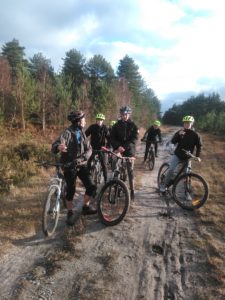 Looks like Santa cant find a control?!