The weather has turned considerably wintry and the recent storm has blown away much of the autumnal colour that has persisted through a relatively mild November. Whilst most of us would take the hint to place another log on the fire and pour a dram of Lagavulin (or watch Strictly, delete as appropriate), a small band of WSX orienteers ventured into cold and snowy heights of Cleeve Hill in Gloucestershire on Saturday night, to brave the darkness and bitter wind chill in search of flags hidden in the snow, to take part in the British Night Orienteering Championships.  By all accounts everyone who took part had a great experience and got very cold, and whilst the Southwest might not deliver Scottish winter conditions, this was about as hostile as it gets for night orienteering. The hardcore folk performed well: Gavin came 7th on M65, Rob 6th on M60L, Jon 8th on M50, with the best result from Peter finishing 2nd on M45L. A great effort. Further results can be found here. Hopefully we will get a report from one of them for a future chat.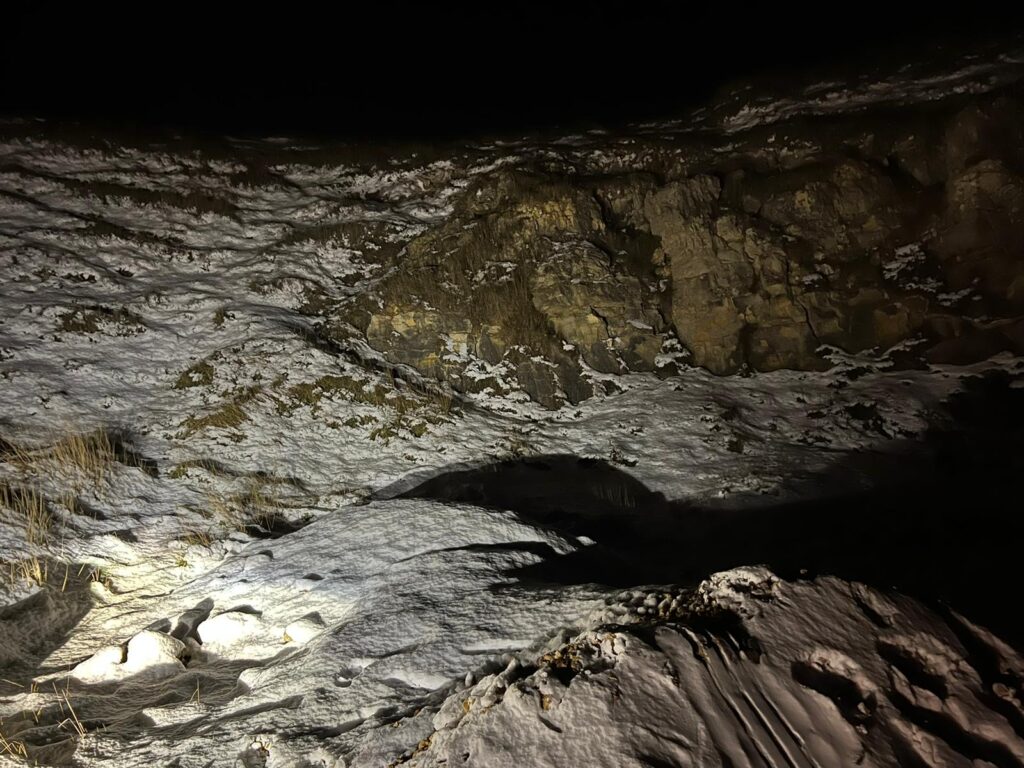 Top of Cleeve Hill in wintry conditions, in the dark…(having fun!)
The following day was the latest instalment of the South West orienteering league (SWOL), which is a series of 9 league events over the season, with each club organising an event. This is the best way to experience all the tough terrain that the SW has to offer, and we will be showcasing Agglestone again in February for our event.  On Sunday it was BOK's SWOL event at Cannop Ponds in the Forest of Dean. There were good results all round for WSX members with our juniors Lyra and Esk running up on Blue and Light Green. Many of the elite orienteers also attended so all courses were very competitive, with Esk the best placed WSX runner, finishing 6th. It also coincided with the latest South West junior squad training weekend, with track racing (into the gale force winds) at Yate on the Saturday (too windy to run in the forest sadly), a night of Christmas fun (and O training) at Soudley village hall, then the event on the Sunday. The SWOL roadshow moves on to Salisbury Plain this weekend for SARUM's event at Sidbury Hill. More details of SWOL can be found here
Also on the Saturday there was a SOC local event at Fleming Park, with top 10 finishes for Liz on light green and Tim on green. Last week also saw the latest Wessex Night League event at Alresford, with top 10 finishes for Alan B, Peter and Jason. We await the updated night league tables, but there are events at Brockenhurst on Thursday and Canford Heath next Monday, so plenty of running to be done, and points to be had. 
This weekend is also the Veteran Home Internationals in Surrey and we wish Gavin all the best as he represents England. Looking ahead, the National Trust have given us permission for an event on a new area of Studland Dunes on 5th February. This will be limited to 100 places to reduce environmental impact and demonstrate it is useable for our sport. Hopefully we will be granted a longer license and we can run our Dorset Delight there in October, so keep the date free (if you like dune orienteering). Here is a sneek preview of Ben Mitchell's map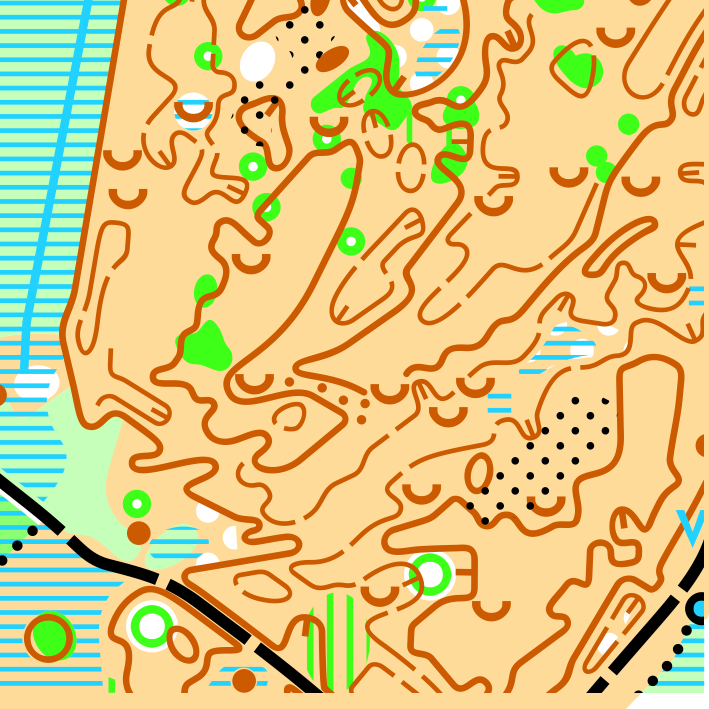 Finally, I want to share a report from Lyra on her recent week long training residential in the Cairngorms back in October. The training is for 24 of the best M/W14s in the country who are selected to attend Lagganlia (although this year at Badaguish, near Aviemore). It is part of the JROS programme of summer camps. Lyra was provided with a grant from SWOA and WSX and here is her report and thanks:
"Lagganlia was amazing! Quite possibly the best week of my life. I travelled up with Ben Perry from DEVON so it was good fun on the journey up and down. We were left on our own once we reached Glasgow on the Saturday and boarded the train for Aviemore. It was a stressful first night as some of the other athletes who were travelling by train had theirs cancelled, meaning they didn't arrive until later that night. Once we had all arrived and were fed, we played some ice breaker games for a hour or so which was great fun as we all made up silly names for ourselves. Throughout the week we went to many quality areas, including Culbin (with all the spiders), Moor of Alive and the Tour Champs at North Granish. It was a great atmosphere with all the friendly competitions that took place during the week, highlighting the races to the minibuses each morning! Once we returned from the forests each day we were given half and hour to an hour to have a shower and eat some of each other's cake we had to bring as part of the kit list. It was followed by a 1 hour coaching session in small groups to help debrief and reflect on the day. In the middle of the week we had a rest day. We raced in "world championship like races" in the morning with the runners choice which was great fun and in the afternoon we were let loose around Aviemore for an hour! Throughout the week we were shadowed by the junior and adult coaches and took part in all sorts of relays at the end of the day. I think it is fair to say we were all exhausted by the end of the week. I made loads of new friends and cant wait to see them all at the big events in the next year or so! Really happy the week went ahead and thank you for all the support to help get me there."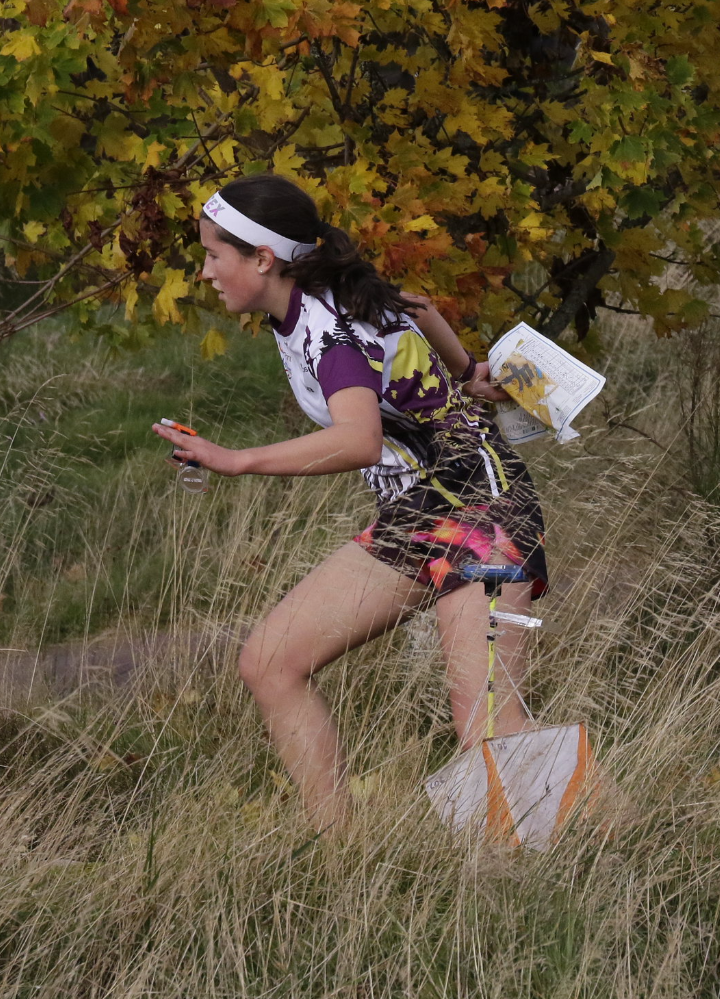 Lyra @ Lagganlia