Tamar Triple weekend
We have had a couple of fantastic weekends of Orienteering, with several events occurring around the country. The Jubilee weekend was, for some members, spent at the Tamar Triple, either side of the Tamar river in Devon and Cornwall. The first afternoon was a hot and hilly urban event in the old stannary town (collecting coinage/duty from tin mining/smelting) of Tavistock, which has some very grand buildings and a large viaduct, a relict of the one of the railway lines cut by Dr Beeching.
Top 5 results for Jolyon (4th MV), Jon (3rd MSV), Gavin (1st MUV), Lyra and Esk (1st and 4th WJ)
For the day two classic event, it was up on to Bodmin Moor, near the famous Jamaica Inn at Bolventor, for a moorland run over Leskernick Moor. The heavens opened as we drove over the A30 and turned off to the parking field. I was constantly refreshing the rainfall radar and confident that it would pass, and it did, thankfully. The start was at the top of the Beacon on Hendra Moors, with great views of Brown Willy Tor and Roughtor (the highest peaks in Cornwall). The first few controls were tricky, hidden away in a number of pits on a slightly convex grassy slope, made harder by the fact that the start kite was not at the start, thus throwing off all compass bearings (my excuse for mucking up #1 anyway). After that it was quite an expedition, with the longer courses of brown and black >11km and >12.5km. It was a day 1 of the Saunders kind of event. There were a few controls in some old settlements with low walls and round houses, otherwise, classic Bodmin moor. The clear views made navigation straightforward, and most of us managed to make it back before the rain returned. It cleared again to allow a few of us to swim in the sea at Trebarwith Strand.
Top 10 results for Jon (8th Black), Jolyon (6th Brown), Lyra (10th Blue), Esk (2nd Light Green)
Day three was a trek around the St Germans river to Mt Edgcumbe. All the courses starting in the grassland on the top of the hill, before plunging into a number of wooded valleys, with high vegetation and quite a few nettles. All in all a tough and very enjoyable and sociable three days.
Top 10 results for Jolyon (7th Brown), Lyra (4th Blue) and Esk (1st Light Green).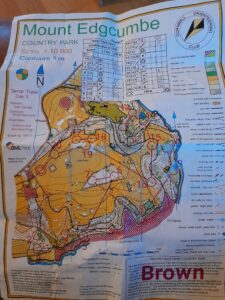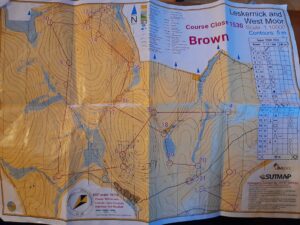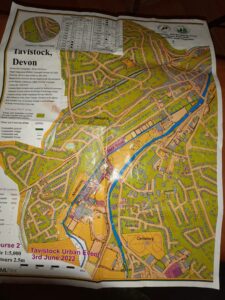 British Sprints weekend in Leeds
Saturday was the British Sprint relay championships at Leeds Beckett University. Only the Medlocks, Bradley and Michael attended, taking part in 4 different teams. After much lobbying of BOF by yours truly, BOF decided to amend the rules to allow neighbouring club alliance for juniors aged MW10-16, which meant that small clubs with few juniors (i.e. WSX and WIM) could form junior teams at British relays. Previously, at the British relays in Sussex, of the >120 juniors from >40 clubs who ran the BOC, only 3 clubs could actually form a same sex relay team, and only a further 4 clubs could form a mixed team. Consequently, all the medals went to juniors from only a small number of clubs, with >50% of the relay medals going to one club. In the spirit of Boris and Gove's levelling up policy, now all juniors have a chance to take part (not necessarily win) in these fantastic relay events, and I am very impressed that BOF were open to the idea for change, albeit with the approval of the larger clubs.
Consequently Lyra joined a team with Harry Bratcher-Howard and Grace French from WIM, and Esk joined a team with Monty Bratcher Howard and Alice French. Karen and I decided that for them to look like a team they ought to wear the same kit, and why not have a new kit, designed with the colours of the Dorset flag, with WIM and WSX logos on the arms and "DORSET" emblazoned on their backs. They looked superb, and Esk for one said that she had the best day of orienteering ever. As it happened, the older ones managed to finish in Bronze medal position in the MW16- behind the mighty junior teams from Sheffield and Stirling, which was a bonus. The parents (me, Karen and Andrew Howard) also formed a team in the non-competitive Ad-hoc class, securing second place and walked away with some local pottery mugs. Bradley and Michael were up against the entire GB and NZ teams in their elite relay and put in a great performance. Bradley, in case you didn't know, represented South Africa at the WOC in 2015 and 2019 and five JWOCs. He kept that quiet when I asked him in Baiter Park whether he had orienteered before. Michael sadly will be leaving us for delights of London, and we wish him well, and we will miss him. Best of luck Michael in your new adventures.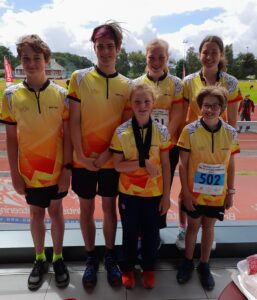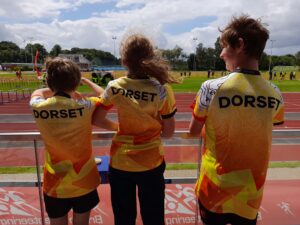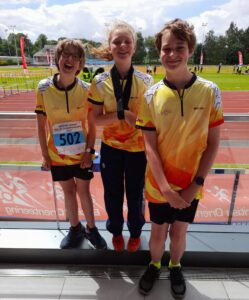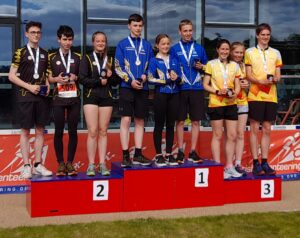 British Sprints
On to the sprints, and Gavin joined us to defend his crown. As ever this is always a carnival atmosphere, and along with the JK, always for me the most enjoyable and sociable O day of the year. It was based at Leeds University with a fast and furious prologue in the morning, with minimal tricky navigation. This is where you have to do enough to get in the A final, but not too much that you can't get back out and compete for the final afterwards (oops!). Apart from the M21s in the elite class, everyone else made the A final, and a well done to Esk who is a lower W14. The final however was very tricky, and I hadn't read the planners notes or geeked the map. Consequently had a rubbish final run, missing almost all the time saving snickets and stairs. The terrain was on about three levels. It was clear though who (Gavin and Lyra) had spent all their time on google streetview and checking past events, as you didn't win without being a) fast and b) well prepared. To give you an idea of how to go about these events, and what makes you a British champion, you can read Gavin's report below.
As I say, Gavin retained his M65 crown he won in 2021, and Lyra retained hers that she won in 2021, 2019 and 2018 (none in 2020). Excellent performances all round. It was a fantastic weekend. Next year its in Armagh in Northern Ireland, along with the British Middles.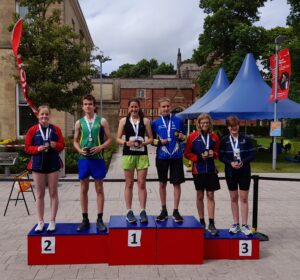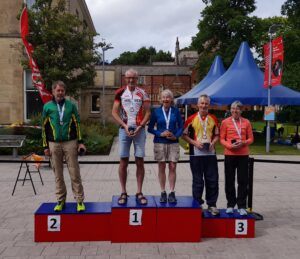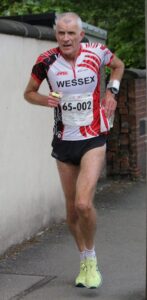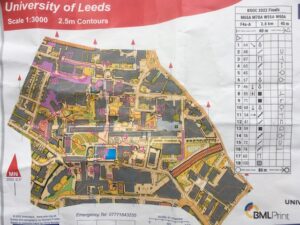 Winning report by Gavin Clegg:
Given the choice I'd prefer to be running through a sun lit forest. However my results indicate I do a little better at the Urban stuff, particularly sprints. Sunday therefore found me at Leeds University attempting to defend my British Title. I think the below particularly applies as one progresses through the age bands; most of us M65's know each other well and the competition is fierce. Looking through the start list there were at least 10 of us in with a realistic chance of coming away with the Gold Medal. Five of which I would have happily put money on: Adrian's Pickles, in form and beat me at Welwyn-Garden-City, Pete Jones, in form and current British Middle Champion, Barry Elkington, in form, loves the sprints and faster than me in a straight line. Philip Eeles, always a threat and Alun Jones, faster than me when he's fit. Alun unfortunately had pulled a hamstring 10 days ago so one less to worry about, down to 9.
As with most orienteering, the sprints are over engineered and begin with a prologue. There were three prologue or 'qualifier' heats for us. The object to be in the top 6 of your heat to qualify for the A final. The 'seeding' for the final is fastest on Q3 goes last off, fastest on Q2 second to last off, fastest on Q1 third to last off etc. My game plan was to run within myself, not to win the qualifier but just make sure I was in that top 6. That immediately fell apart as I messed up the first control, loosing 20 seconds. I had to work a little harder than intended but did make second place on Q2 meaning I'd be fifth to last off in the Final, with hopefully one or two to chase down. 
Philip Eeles, one of my favourites, missed a control: We had a map turnover at control 9 and he deliberately turned his map over going to control 8 but then forgot to visit 9 before going to 10 and was DQ'd. Down to 8. 
Pete Jones had a mare of a prologue, finishing 6th on Q1, scraping through to the A Final and was therefore first off of the 18 of us. I did think at the time that would suit him as he would have little in the way of distractions and could easily win from that position. He then went and posted a very fast time of 15:05 for the 2.8k. Not that I knew that.
Lining up at the Final start I eyeballed my minute man: Maurice Calvert, yep chance of catching. I eyeballed my two minute man: Barry Elkington. Hmmm, unless he makes a big mistake I'm not going to catch him over 2.8k of sprint. Behind me Paul Bradbury, then Bruce Bryant, Adrian Pickles and last off Mike Napier. Anyway, focus on my race, I can't influence anyone else, just make sure I have a clean run. Which didn't quite go to plan: I had watched which way both Barry and Maurice had left the start, so just went that way. First control was long (two minutes) for a sprint leg, choice of south or north into the control, decided for north as it would get me a view of 2 on the way in. Fastest split, 10 seconds in the lead. 2 & 3 straightforward. Barry had been slow on both 1 and 2 and lost 55 seconds. Down to 7 in with a shout. 4 a bit wiggly but no choice and now 20 seconds up. Conservative through 5, 6 and 7, loosing a few seconds to the fastest splits. Nailed the route to 8, now 35 seconds up, but into oxygen debt. Wrong route out of 8 loosing 11 seconds. 9-10 hesitated near the control, another 11 seconds gone but caught Maurice my one minute man. 10-11 almost made a fatal error going north of the buildings as the steps just before 11 were very difficult to see at pace, corrected in time but now only 16 seconds up on the time Pete Jones had laid down. North and simple to 13 but just didn't see the quick route to 14. Ok to 15 but up the last set of steps to 16 I was physically almost at a standstill. At which point I'm only 2 seconds up on Pete. 16 was close to the finish and I heard the pa announcing the arrival of Barry and in 2nd place in M65. I knew I was within 2 minutes of Barry so would come in in second place at least. I just had to go eyeballs out 17/18/finish to see I could get into the lead. 2 seconds gained 16-17, 1 second gained 17-18 and another 2 seconds on the run in. The lead by 7 seconds from Pete Jones time, with Barry now third. However, four more to come in, the waiting starts. Paul Bradbury: slow start and dropped the ball at 6, 9 and 11 loosing almost 2 minutes. Bruce Bryant: Good steady run, no mistakes, but not quite the pace and finishes 13 seconds behind Barry. Guaranteed bronze for me, just two left to arrive. Adrian lying second, 12 seconds down at control 7, messed up 8 and 9 – 2 minutes down and out of the picture. Mike Napier with mistakes at 8 and 14 down in 7th place. Gold for me and a happy bunny.
Brilliant run from Lyra who also defended her British Sprint title, albeit in a higher class this year and also 16 seconds faster than the lead time on W18 😱.  Some other good results; Bradley getting through to the Mens Open B final and Jolyon making the M45 A final. Only 7 people retained their title from last year and WSX was the only club to have two runners do that 😁.
South west relays
The first event of the year was organised by North Wiltshire orienteers, with Ian and James winning the Raiders trophy at Coate water. An excellent start. If you want to join these fun relays, contact Roger. Our relay is on 24th July at Littledown and Kings Park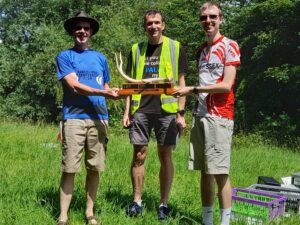 Find Your Way
The latest event was at Blandford Stour Meadows, and Jason has been organising these, with >50 people turning out to use this new permanent course, opened by the Mayor. Well done to James who won. This is a great way to recruit new members. The next one is at Boscombe on 9th July.
Purbeck Weekend of Orienteering & November Classic
Just a heads up we are extending our normal Dorset Delight event in early October at Studland to include an urban event the following day at Swanage. 1-2 October, keeps the dates free.
In November, WSX will organise the urban event at the November Classic weekend, this year at Friars Cliff, Christchurch. Not to mention four events in the Night league, which may include Studland and/or Corfe Castle. So lots coming up. Looking further ahead, our WSX SW league event and Compass Sport qualifiers will both be joint events with SOC, and both in the New Forest in Jan/Feb 2023. So please offer to plan, organise, help etc.
Hope you enjoy the summer, and see you at a relay, or in Lakes / Scotland