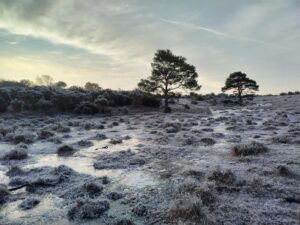 Hope everyone has warmed up after a very cold weekend. We have had two fantastic events during January, battling first against flooding, then against ice. A few weeks ago, Jon organised the Wareham night event, but this year, with the added complexity of the dumbbells, whereby controls had to be collected in pairs, with any additional controls collected between those pairs scoring zero, and paired controls only scoring if visited sequentially. The planning of control visiting was made more challenging by the fact that Wareham had almost been reduced to an island, so that all the normal routes across the fields were underwater, and during the course of the event, the subway also flooded. However, this did not deter the night orienteer, merely adding to the general bonhomie. James managed to pip Dan, even though neither of them got all the controls. Esk had her first full taste of the night league (running with Dad), and particularly enjoyed the darkness of the flooded river valley, and the mad dash to the finish. Jason finished 4th and Lyra (running with Mum's dibber) came in 5th. Thanks to Jon for a cracking evening. Full results are here
This weekend was the Compass Sport Cup and Trophy regional qualifier for the South West and South Central, where 11 clubs came down to the New Forest to battle the icy conditions of Holmsley. I suspect that most sporting fixtures over the weekend were cancelled because of frozen ground, but a week of below zero temperatures, frozen ice across the forest and freezing conditions didn't stop over 300 orienteers descending on Holmsley. How we managed to avoid any serious first aid incidents is a credit to all the runners. I had an early start, so had much of the frost encrusted, icy forest to myself. It was a real treat and a real privilege, so thanks are due to Forestry England for their permissions.
First off we should offer a huge thanks to Roger for organising the day, with the added complexity of it being a CSC fixture (hen harrier restrictions etc.), thanks to Jason for planning some great courses, to Julie for her unremitting support of anything that needed to be done including mapping, and to Tim, Alan and team on the entries and download system, results and routegadget. The WSX team of volunteers were brilliant in their organisation and delivery of the event as ever, from the control placers and collectors (in very cold early morning weather), to the start team who stood for hours in the cold, and then were expected to perform on their runs, to those that came on Saturday to set up tents, to the string course team and those (including SOC) on car park, first aid and enquiries. Many members came to help and didn't run, and those that did run, put in some excellent performances. Peter even flew in from Budapest. Anyone who has organised, planned or helped at an event knows how much work goes into it, and the CS fixture requires a lot more organisation. So well done team WSX and thanks to Ian Moran for his excellent controlling.
We didn't qualify, but with a club much smaller than SARUM and WIM, and with many members either helping/planning/organising or injured, and others jaded (mentally or physically) by their duties, it would always be a tall order, but we weren't far away from the top two teams. I think SARUM had more runners on the day than we have members, and seem particularly proficient at recruiting new members, including the best of the British Army. I suggest we recruit from SBS in Poole next time! WIM scored particularly well on juniors and over 70s, so we know where we need to recruit to for future fixtures.
Congratulations to WIM on winning the heat, their team captain Rob Mills sent us a lovely message:
"On behalf of everyone at WIM, I just wanted to pass on our thanks to yourselves and everyone at WSX for hosting the CSC Qualifier at Holmsley on Sunday.
Everyone I have spoken to very much enjoyed the event and also recognised how much time and effort goes into making such events happen, including what must have been some very early and very cold mornings!  Please pass on our thanks to everyone involved and let them know it is very much appreciated!"
James (our team captain) said:
"Considering we were a few members short due to organising the event, I think we did very well. With a full team we could easily have claimed 3rd out of 8. It's worth noting that the cut-off for a 'small' club is 120 members – that's twice our size, and WIM and SOC had nearly double our number of runners entered."
Click on this link for the team results:
As you know Scott has been honing his skills in making orienteering films, starting with the Lakes 5 days. In addition to running our Instagram page, he has now set up a WSX YouTube channel, so WSX is on the big screen. He made a fantastic video of the event and conditions on Sunday. Go grab a cuppa and watch this (turn on the sound!). Thanks Scott
Just to finish on a few more notices:
Tomorrow is the WIM Shillingstone night event
The British Nights are coming up in Feb at Moors Valley, will be good to see WSX on the podium
Our SW league event is at Longbeech, organised by SOC
If you want to be added or removed from the Whatsapp chat, please send me an email. I will be removing any members who have left WSX, so as not to cause a nuisance.
Finally, congratulations to Lyra who was selected to run cross country for Dorset, after the recent trials in Bournemouth. She is not a specialist XC runner, so it's a great achievement, and she will represent the county in Bristol next weekend.