---
Event Details
---
Results available:
Post Event Comments:
In the Open League Alan has moved above Nick into second but only has four wins. In reality he has to win the last three races to take the title. Rob, with six wins needs to win just one more race for a full house and Nick with 5 wins needs just two more wins for the set. No movement further down until Peter Suba, up 1 to 8th. John Oakes is closing but is too consistent to make much more progress. Jason is up three places to 16th and is targeting a top 10 finish. No change between Jo and Becca with Jo just 40 points in front.
In the Handicap League Chris, with the best handicap score of the night at Canford, is up 79 points and has closed within 170 of Gavin. John Cook, as predicted, is up 98 points to 4th, only 13 points off third place. Rob Hick has broken into the top 10 with his best score of the season at Canford. Carolyn Dent, also with her best score of the season, is up 3 places and 178 points to 14th with the potential to spoil the triumvirate of Tereza, Jo and Becca if she runs as well in the last three races.             Gavin
From Julie Astin: " Amazingly, this was my first time at a Canford Heath NL event – I seem to have been away every time before. As I result, I wasn't as familiar with the map as I should have been (and didn't check the sample map before I went out). I made a bad error in going for a control (70) in the industrial estate, thinking I could get out the other side and onto more controls. Wrong! So this meant a long run in and out just for 10 points. I then compounded this mistake by taking the wrong path when I got back up to the main road. My brain clearly wasn't in gear. Several more wasted minutes (I reckon a good 6 or 7). Even when I got to the underpass to get the first of the three 50 pointers I wasn't reading the map right – looking for the control (31) on the wrong side of the road. Apologies to the person who heard some very unladylike language emitting from my mouth at that point!!
Anyway, things got better as I met up with Olivia O'Malley who is a relative newcomer to the sport, and hadn't run since September due to a broken wrist. She was bit unsure of where she should go next so asked if she could come along with me. For the rest of the hour we joined forces and picked up the other 50-pointers and a few more 10's. I really enjoyed it and we had a nice chat along the way.
Although I was a bit dubious about Dale only planning 3 high-pointers and all the rest (35!) as 10 pointers, the results show that even the less fast runners could acquire a decent score. It was a great event with 48 competitors (including a few pairs, over 50 people). Now onto two forest events before the finale on February 24th at Queens Park. Let's hope I do better than my last forest venture…."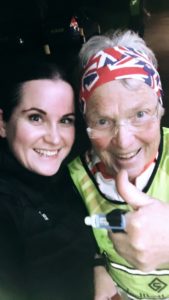 ---
Pre-Event Bulletin:
Here's the final details, including link to map reservation form.
Note: as there are 38 controls (!), if you are a 'top' runner and expect to get most, if not all of them, you need to have a dibber that will accept that number of controls. Please contact Julie if there is a problem with this.
---