Poole Park, Poole
BH15 2NX
(OS: SZ025913)
Approach Poole from east or west on the A35. At the large roundabout which circles the Civic Centre take the exit to the town centre but immediately turn left in through the park gates.
Loading map...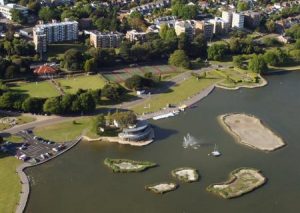 Poole Park is an interesting park laid out around a very large boating lake and some attractive duck ponds.
Warning: The cycle tracks in Baiter are being rebuilt, paths have changed but the park inside the railway is up to date July 22.
Courses of 1.0, 2.1 and 3.1 km are available. There is also a short "Virtual Orienteering" course with no visible controls but you need a mobile phone with GPS to run it. See the "EVENTS AND MAPRUN" page on this site to read more about using it and many others around the area.
The park is open all the year, parking is free but it can get tight on Sunday afternoons, especially in the summer season. Toilets are available at the east end of the park and in "The Arc" café which provides refreshments. There are also  boats for hire on the pond, boules, tennis, ducks & swans and plenty of scope for picnics and games. The lovely new "Kitchen" restaurant, overlooking the lake, completes the picture. 
To print your own map pack, click on each of the links below:
Related external pages
Borough of Poole maintains Poole Park Facilities    if you are looking for information that is not specific for the POC hosted on the site.