We had a glorious day on Sunday at the Poole Out-Of-Town event at Canford Heath. It was a really hot day and apparently the leisure centre nearly sold out of ice-creams! Parking was more of an issue than I thought it would be as, unbeknownst to me and the leisure centre, the Academy next door hosts a local church which had two services on that morning – with an estimated 300 people attending! So the car park became full and I had to redirect the late-comers and the Church people were redirected down the road to the next car park. But it all worked out well and everyone was happy.
Dale had planned some really challenging (and long!) courses and many people were caught out by not seeing 'that' gap in the wall. I believe that Dale has agreed to make it more obvious for future events. The good weather and the fact that the event was part of the UK Urban League, as well as SEOUL, brought in more people and we ended up with a record entry of over 140 people. I must make special mention of the EOD team (Tracy, Sarah and Sheila) who coped brilliantly with all the EODs and juggling the maps so that everyone got a run on the course they wanted.
As for results, we had a number of top-ten finishers:
Harrison Eydmann – 4th on MYJ; Lyra – 1st, Esk 5th and Sophie Eydmann 6th on WYJ; John Cook – 3rd and Neo 5th on Open; Peter – 1st and Jason 8th on MV; Ian – 7th on MUV.  Well done to everyone.
After the event, I managed to present the trophies to Lyra (Sheila Beldowska Trophy and Charlie Morton Trophy) and Peter (Ian Horsey Trophy).
On Monday, WIM held an excellent urban on a new map of Ringwood. Eamonn Staunton, the Planner, had used the same format that I used at the Queens/Kings Night League event – with 3 'map memory' bonuses worth 50 points. There was a certain element of luck with this, but it was great fun and very challenging. WSX runners scooped the top 3 places – James 1st, Alan 2nd and Roger 3rd. Brilliant.
Mention must also be made of Alan Blanchflower's fantastic effort at the Lowe Alpine Mountain Marathon event (LAMM) with his running partner Frodo (yes, really!) which took place on the previous Friday and Saturday on the Isle of Harris in the Outer Hebrides. On course B they came 33rd /63.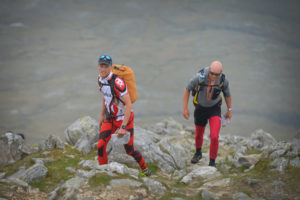 (Photo courtesy of Jon Brooke who was the official photographer for the event)
Onto social events….
14 of us had an excellent evening of 10-pin bowling at the Bowlplex last Friday, followed by an Italian meal at Al Gatto Nero. We'll definitely have another one later in the year, so watch out for details.
And a reminder about the Informal/BBQ at Studland on July 20th.
The details, in case you missed them first time round are here. Please let me know if you're coming.