The first of the South West Summer Relay Series took place at Shaw Forest, Swindon (it's actually parkland with bits of forest) and Wessex Raiders – consisting of James, Roger and myself – managed to win the 'Raiders' Trophy!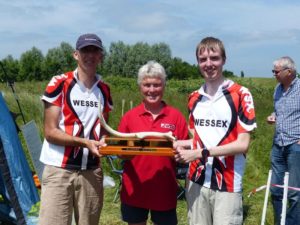 We actually came in 2nd, after a two-man team, but as they aren't in the SW Region,  they didn't count. I, foolishly, didn't wear full leg cover as advised (a good reason to read the instructions carefully!) so, although I borrowed some gaiters from Roger, the top half of my legs got a bit shredded by brambles and briars. The amount of undergrowth certainly made the mapped vegetation rather misleading – to say the least! – and it was often advisable to go a longer way round on the paths. Though by the later stages,there were some great elephant tracks to follow – as long as you got the right one! It was a great day, anyway, with 14 clubs taking part – fortunately, BOK wasn't amongst them!
This weekend also saw the Medlocks on their travels – this time to South Wales for two days of the 'Midsummer on Gower' event. Lyra and Esk excelled themselves, with Esk winning Yellow at both Merthyr Mawr West and Oxwich, and Lyra winning the Orange and then Light Green. Jolyon says it's a great event, so one worth considering for next year.
And Peter travelled further afield, to his native Hungary, to take part in the Hungarian Night Championships. He came an excellent 6th on M40, and here's the map to show you what a complex terrain they were running on: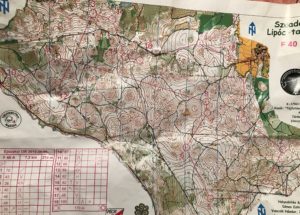 And here's Peter coming into the Finish: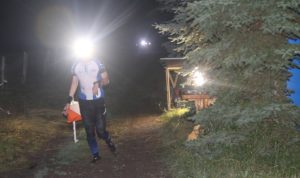 The next event in the Wessex Region Summer Series is at Potterne Park, Verwood on June 23rd – see Wimborne's website for details.
And the full list of local events from now until August is here.