This weekend
This weekend there was an event organised by Sarum, and WSX had a good turn out (8 club members), putting in some good results. The best was Roger winning the Score. Here is Jason's report (and map) on the green.
Good time bogtrotting on Dur hill. Tussock and bog. Fastest to control 11 on green course. Had a brain freeze to 8 hitting other tracks. Should have been 3rd.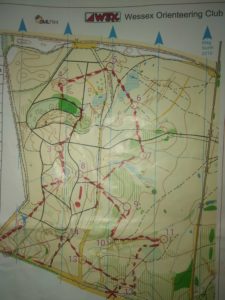 Last weekend
Having had no orienteering this weekend, this is my first break since late September and it felt quite strange. Last weekend however was very packed with courses and altogether I ran over 30km.
The weekend was amazing and the event for me, organised and planned by Rebecca Ward, was very good. I messed up number three quite significantly. I got confused by the vegetation boundaries. After the course closed I was eager to try and find number 3 correctly so I headed out with Ben Perry (DEVON), as he made the same mistake, and Jim Bailey BOK (GB Talent squad). We did the first three controls with Jim and he made us say out loud what we would see and ticking them off along the way. I "spiked" number three second time round and realised what I had done wrong. We then collected in the controls and headed to the village hall. We spent a bit of the evening doing planks and strengthening our ankles. We had secret Santa and either chilli or chicken curry for dinner with crumble for pudding.
The next day we trained on the doorstep, at Blakeney. We were given a map with 5 controls on and we had to contour round, not losing or gaining any height. The next course I did was "CCP" which stands for Contour, Compass, Pacing. Most of the controls were on vague platforms. You had to navigate using either your compass, which was key as you probably wouldn't have been able to find the control without it, pacing to ensure you go the correct distance or contour around the hill so you know how high to look.
We then did some other courses before we finished with Trains. Trains is like a relay, two people run a course, but some controls aren't the same (gaffled). The first one to get back wins. Pete said you were supposed to make train noises in the forest to pretend you are a train, hence why it's called 'Trains'. Overall it was an amazing weekend and I can't wait until we go to the lakes in February!!!!!
Here is a report from Nicola about the weekend:
So the weekend saw three members of the family Brooke heading off to the Forest of Dean for a SWJOS training weekend.  The fun started with the NGOC Soudley Ponds event. Ag, Arthur and I all ran Green – well Agnes walked as she'd hurt her knee doing Parkour the previous weekend. She went off first and I followed with Arthur bringing up the rear.
The first control looked straight forward but finding the right pit amongst the trees proved trickier than I expected. Arthur caught me up but I found the control first! Arthur ran off down the path to control 2 but, by taking a bearing of the wall corner, I caught him up and lead him into the control.  2 to me!  Finding control 3 was a matter of following the veg boundary down to the path; stopping to point out to a junior that we were where the wall met the path; and then following the walls to the control.  Apparently, a lot of the juniors found this one tricky. 3 to me!  I caught up with Agnes at control 4. Good job too as she pointed out that we were too high on our way to number 5. Going down was steep and very slippery and with no collecting features of any kind, we just had to hope we would hit the control which luckily we did.  Agnes found descending to the path tricky so I got away from her here (was that mean of me?)   However she caught up with me again at control 6 when she chose sensibly to follow the ridge up to the control whilst I went too far left and had to come back to find it. She also helped me on 7 when I was confused by a line of woodland that even now is difficult to see on the map. Everything was fine after that with some lovely running through open forest.  At 12 I was distracted by a control that I knew wasn't in the right place to be mine, but that I felt compelled to go and check any way (grrr)  but I ran hard into the finish in pursuit of the family Golden Boot competition (which is the only thing I ever win). Sadly, I failed to dib by SIAC in the final box. Doh! Not that it mattered in the end as Arthur, exhausted by his heroic training effort at tri-club the previous evening had stopped running after control 3 and walked the rest of the course. And of course Agnes was walking….
The evening was spent in Soudley Youth Hostel and then the morning saw me putting out controls for the first training event. I did warn them!  This turned out to be one of the most stressful things I have done for a very long time.  Out of 8 controls, I managed to get 6 in the places the planner had intended; one was a foolish mistake that I quickly saw when it was pointed out but as to the last one, I still don't really see where it was supposed to be!  I compensated by making sure the kites were very visible, so as long as they were near enough, they would see it. The exercise itself was about following contours into a control.  Both Arthur and Agnes completed this well, with Arthur being one of the first finishers.  The next exercise was a long/short exercise practicing running diagonally across contours, pacing and 'traffic lighting' where apparently you run hard and then slow down as you approach a control.   It was also an exercise in discovering what a platform looks like as the area was covered in them.  I had a go at this course and it t was surprisingly relaxing not to be competing and to be able really think about the nav. It was also a lovely day in a beautiful bit of forest with lots of birds flitting between the trees and no one else about.  Sadly the skies darkened as about 2pm and so although some of the juniors went on to do a 'trains' event, the Brooke family threw in the towel at this point and decided to make our way home.
I do think it might be worth finding out if there was any interest in running a similar weekend training event training event for adults.   I think there might be many senior orienteers who would like to learn some of the techniques that were taught, to say nothing of the social aspect.  If it were linked to an event, as this weekend was, there could also be an element of competition for those who like such things! Just a thought.