Hope you have all been keeping well over the last three months. Since our efforts at the CompassSport cup we have experienced a (hopefully) once in a lifetime banishment from our chosen sport. Although if I recall, back in 2001, during the Foot and Mouth outbreak, when I was more into climbing mountains than orienteering, we also experienced a similar lockdown of the countryside. The only mountains open in Scotland then were Ben Nevis and Lochnagar.
For those of us that include orienteering in our schedule at least once or twice a week, not being able to meet up with friends, or run with a map, or attend the big ticket events that were to take place during April-June has been challenging. For our juniors who are in the South West junior squad, a biweekly zoom meeting has kept them focussed, maintained the communication and tried (and succeeded) in keeping their spirits up and sustaining the link to the sport. A big thank you to Pete Maliphant, Jeff Butt and Dave Hanstock. For a few others, we have tried to master a range of online virtual orienteering games as part of lockdown orienteering. We have discovered Catching Features, which has been great fun and worthy training for any orienteer, as well as discovering that Trail-O, although fiendishly difficult, is not as difficult to grasp as a concept as we might think. So, a big thank you to Chris Smithard and his friends for providing us with the chance to be involved in national and international competitions from our sofas. You can read my article on it in Compass Sport if you subscribe.
For others, there have been a flurry of mapping and maprun activity in our lockdown zones, which has meant that we can emerge from lockdown with a summer Maprun league to all enjoy. A great credit to everyone who has worked to produce new maps, plan maprun courses and to our WIM friends (particularly Chris Branford and Dick Keighley) who have supported and assisted.
So that brings me onto the summer Maprun league. We had a great turn out at the first weekly challenge at Upton. Alan B set us a tough challenge to achieve all 20 controls in the hour, or suffer an extremely hefty penalty. Only Alan B and James managed it, so for the rest of us it was planning which controls to leave out and dashing back to the finish under the hour. The terrain was a mixture of parkland, local urban housing as well as some nice running by Holes Bay. This week (until Sunday evening) the circus moves to Verwood, for what looks like a mixture of heath and urban. If you need help with setting up Maprun, check out the helpful page on our website. This 12-week competition will take us all the way through to September, and your best 6 scores count. It is just for fun, and having run a few of these now, I can guarantee it is the next best thing to proper orienteering.
The Medlock family after the Upton Maprun and just as the rains arrived.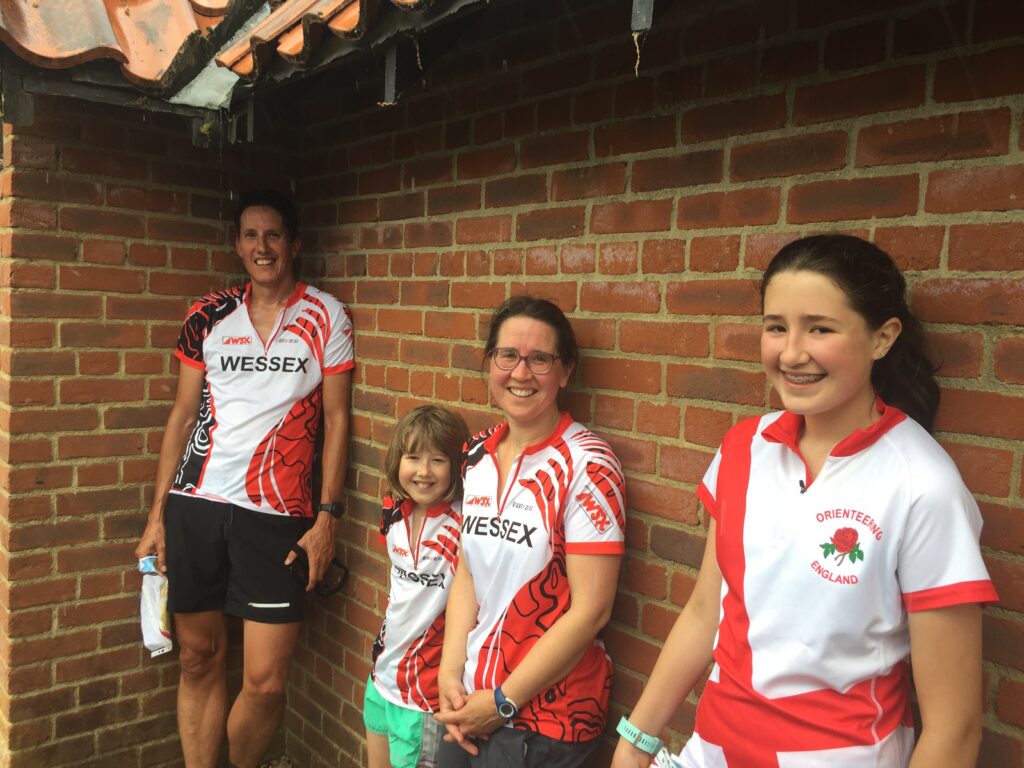 That brings me on to the social side of orienteering, which is one of the main reasons that we love the sport. Orienteers are a top bunch of like-minded individuals. Trying to find ways to keep the social network going is important and one way has been through a Whatsapp chat. People have engaged in this at various levels, but it is there if you want to contribute and let me know by email if you do. It's not about all sharing Strava routes (of which there are many), Jason shares his moth photos, Peter his training maps from Hungary and Julie (and I) various wildlife photos. Now we are actually competing, there is also chat about the Mapruns. Do keep in touch and we extend that invite to those that are new/old to Wessex but don't necessarily know all the club members.
As for getting back to orienteering, we all await news from BOF on this and hope that at least by September we might have some events to attend. We do know that the JK will not be re-run this year. The British middle distance in the Lakes and the British Sprints in Lancashire have been moved to 2021, and the British Champs in Sussex is down for next March. Let's hope we can get back to some safe normality as soon as possible.