Summer Orienteering
When I started orienteering in the early 1990s, the sport seemed to stop between April and September, but now summer seems to me to be an endless procession of opportunities for urban orienteering, European City races, week long festivals of orienteering in Sweden, France, Scotland, Lakes etc, not to mention the summer relay series. There is no longer any down time from the sport where you find time to catch up with other things in your life, like seeing non-orienteering friends, attend weddings, play cricket, or save some money for the upcoming year.
This year, largely through injury, I decided to cut back on running and orienteering, at least for a few weeks. According to my Strava, I had five weeks when I accumulated a sum total of 0kms of running. I did play quite a bit of cricket, saw lots of non-O friends and visited lots of nature reserves to indulge myself in my wildlife hobbies, and importantly, give my achilles a rest. It is good to take a break though and return with renewed energies. The last thing I want to do is to get bored of too much orienteering, or not appreciate the value of the opportunities that the sport provides.
Coming up WSX have a busy winter of events, more events that I think we have organised in recent years, this will include the Purbeck Orienteering weekend, with Studland on the Saturday (planned by me, and organised by Liz), Swanage on the Sunday (planned by Julie, organised by Ian). We will need you all to come and help. It should be a great weekend.
We are then helping SOC with the November Classic, organising the urban event in Friar's Cliff (planned by Ian). Plus our four night events as part of the night league, likely to be at Broadstone, Studland or Corfe (depending on new map availability), Swanage and either Queen's Park or Boscombe. Key an eye out on the website for updates. We also have our SWOL event and jointly organising the CSC qualifer in the New Year.
A few updates on recent activities:
Lyra orienteering for GB at European Youth Orienteering Champs in Salgotarjan, Hungary
After six selection events, three at the JK and three at the Northern Champs weekend, which Lyra won 5 of them, Lyra was selected to represent GB for the first time. This involved three events: a long distance forest event, a sprint, followed by a relay.
Lyra picks up the story:
"The journey started with some delays at the airport, and then my bag not turning up at Budapest airport. Thankfully I had some running gear, including my forest shoes, and my GB kit, and I was able to beg and borrow clothes for the first 3 days."
Unfortunately nobody from the GB team was able to retrieve Lyra's bag, and this was further complicated by the fact that they had to move from their Hungarian hotel to one over the border in Slovakia for two of the nights.
I spent much of the weekend phoning BA, Heathrow and Budapest Airport in vain attempts to track the bag and organise transfer.
"Thankfully Peter [Suba], who lives in Budapest, saved the day and brought my bag to me on the morning of the sprint, which had my sprint clothes and shoes" [Thanks Peter!!]
The day before, at the forest event, it had been 37 degrees, and the lack of clothes/bag had been a cause of some stress. Lyra finished 43/96, lower than she had hoped, but still impressive for a lower W16. Two key legs had cost her 7 minutes.
On to the sprint:
"The sprint race exceeded my expectations and I managed a top 10 result [9th out of 96]!". This was the best GB result of the weekend.
"The whole weekend was an amazing experience and it was great fun to feel part of an international competition. Quarantine was certainly a unique experience. I also enjoyed staying in Slovakia and it was really fun and there was a very friendly atmosphere across the two nations, as well as trying food from different countries. However there were a few stops to the local Spar to try and find some comfort food. I loved the weekend and I really hope I get the opportunity again so I can put my experiences to the test and have the opportunity to race properly next time!! Thank you to everyone from WSX and SWOA who provided funding for the trip and to the coaches who travelled with us."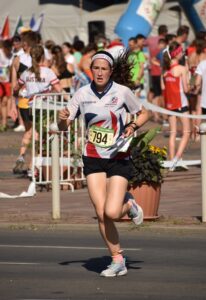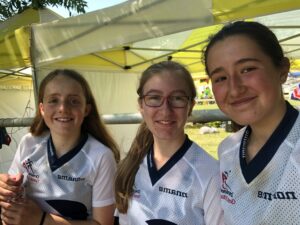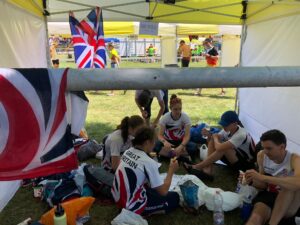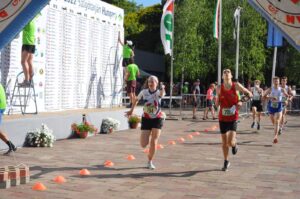 Midsummer on Gower
In late June, the Medlocks travelled to Gower again for the SBOC summer festival of orienteering. Friday was a retro event in biblical rains on Llanmadoc Hill. We forget quickly how SIAC and waterproof, pre-printed maps have changed our sport. Lets just say, picture Esk copying down the course with a red pen that didn't work properly on a wet map that was distintegrating, and looking at me as if to say "you expect me now to run up that hill?". Thank goodness for progress. Thankfully the sun came out and the sea glistened in the evening light, and we all had a fun flashback to more primitive O times.
The Saturday was a long distance event on Broughton Burrows. This is a hugely complex moonscape of wind-sculptured craters, with everything on the map mapped negatively. It aches the brain, and the sand tires the limbs. We all had long days, but this really is the premier area in my view in South Wales and well worth the trip.
The Sunday was a 2×2 relay, teams of 2 running two legs, both on Whiteford Burrows, a narrow band of dune that stretches north as a wide spit into the estuary. The courses were age-graded, which made for an anything goes result. It really was a fantastic atmosphere, and we all returned back along the M4 full of the joys of South Wales, as ever.
Summer relays
I don't have any reports of the relays from anyone, and haven't been able to attend any, but I do know that we won the NWO relay, came second at the SARUM event in Warminster, did not attend the NGOC relay and came third at the WIM relay. Having won the relay series 4 years out of the last five, we hope for a big turn out at our WSX relay tomorrow, the final one of the series.
Summer festivals
We have just been to OO Cup in Sweden and now heading north to Scotland for Coast and Islands, along with the Brookes and Gavin. Many more will join us in the Lakes, so see some of you there. Have a great summer.