Boscombe, Bournemouth
BH7 6JD (Athletic Stadium). Nearest postcode to car park: BH7 6QE
(OS: SZ123925)
Located near Pokesdown Station in Boscombe, Bournemouth. Access to the free car park (where all courses start) is a little complicated.
From Bournemouth centre, pass through Boscombe on Christchurch Road. Pokesdown Station is on your left at traffic lights. Take the next left into Clarence Park Rd & continue to the car park.
From the Christchurch direction, approach Boscombe on Christchurch Road, before you get to the traffic lights at Pokesdown Station the road starts to rise. Use the turning bay in the centre of the road before some bollards to make a right turn into Harewood Avenue. Take the second (narrow!) turning to the left (Petersfield Road) and continue to the car park.
Loading map...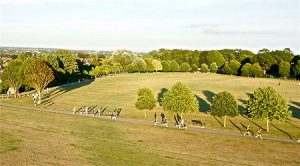 Kings Park contains the stadium of Bournemouth AFC, an athletics centre and an indoor bowling facility. Most of the area of the park that we use is away from these facilities. There are normal open park spaces combined with wooded areas and some contours.
Courses of 0.5, 1.0 and 2.0 km are availabl
Maps can be downloaded and printed, as described below.
The park is open all the year, parking is free. There is an excellent children's play area near the car park.
There is also a paying car park around the football stadium. This is best accessed from Wessex Way (A338) by following the signs to the Bournemouth AFC stadium.
To print your own map pack, click on each of the links below:
Related external pages
The free weekly Bournemouth Parkrun is also held in the area mapped for a POC – a good opportunity to combine activities.